Fun freebies | colouring pages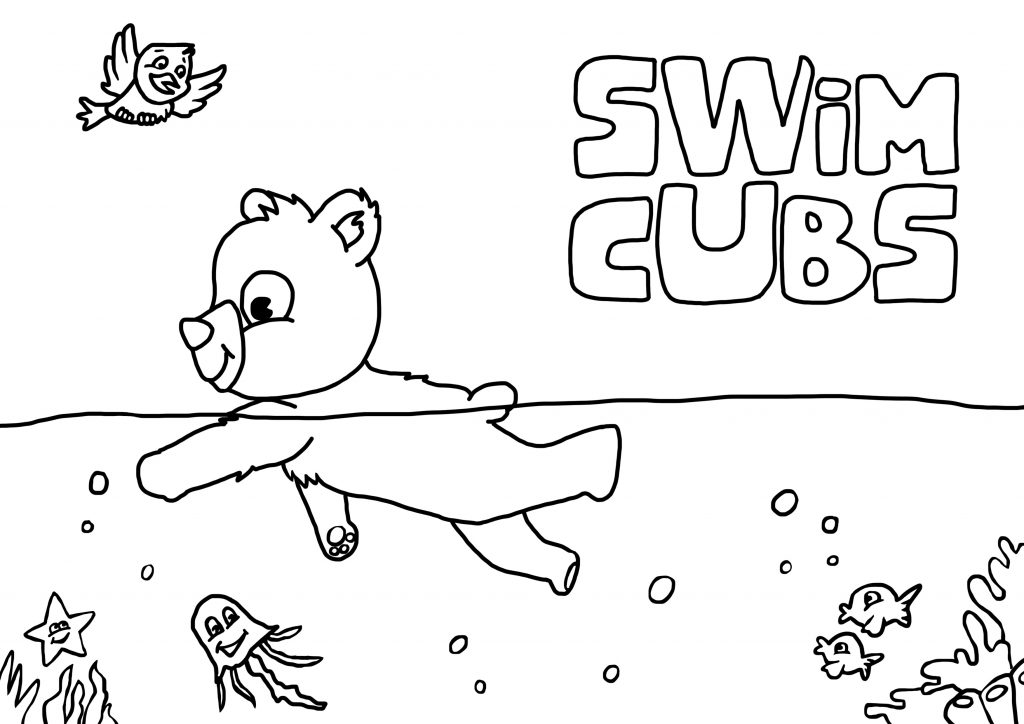 Hello mama & papa bears. If you're like us, you're finding lockdown number 3 the most challenging. It's been a tough start to the year, we hope you're all doing okay. We'd like to help you keep your little ones entertained at home so we'll be adding some fun freebies for your little ones. Starting with these fun colouring pages.
Download our Swim Cubs colouring page here.
Download our Music Cubs colouring page here.
Download our Bear Hugs colouring page here.
Download, print and enjoy a (hopefully) quiet cuppa while your kids colour.
Tag us with your bear cubs finished masterpieces on our instagram page or email them to us at hello@happycubs.ie. We'd love to see them.
Have fun. Bear hugs x
Happy Christmas |Gifts for little ones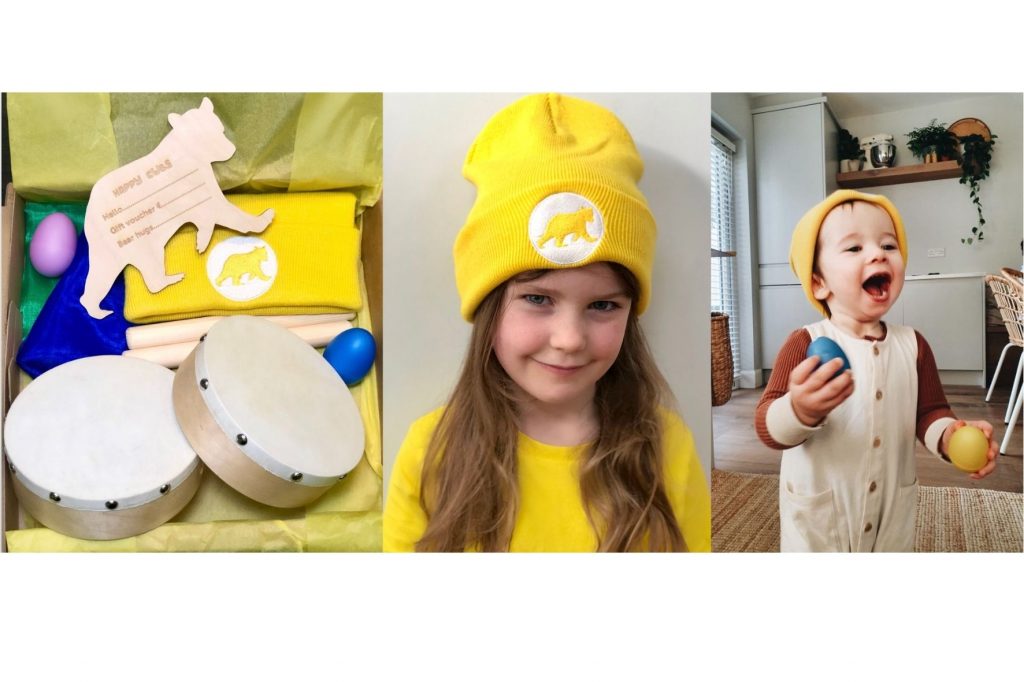 Christmas is a magical time for kids. The best part is spending time with your loved ones and making it a special time. We've got some brilliant gift ideas for the baby, toddler or preschooler in your life. Win at gifting and be the greatest auntie or uncle this year by giving your niece or nephew one of Happy Christmas gifts. No need to spend your time wrapping presents – all gifts are presented in a lovely gift box to make your life that little bit easier. Check out our gift guide for experience and educational sustainable gifts below.
Experience gift
Give your child, grandchild, niece or nephew the gift of learning to swim or play music with a voucher to join our Happy Cubs classes. Our gift voucher is lasercut from recycled wood with our Happy Cubs bear. Presented in a bright yellow envelope to catch your bear cub's eye. Buy a voucher for €200, €150, €100 or €50. The voucher can be used to join our Swim Cubs classes, baby and toddler swimming (€200 for a 10 week term), or our Music Cubs classes, music classes for kids aged 0 – 6 years (€150 for a 10 week term). We have various class locations across Dublin and Wicklow. We also have Online Music Cubs classes for anyone who would prefer to stay costy at home. Online music classes cost between €12 to €50. Gift vouchers are valid for up to 5 years.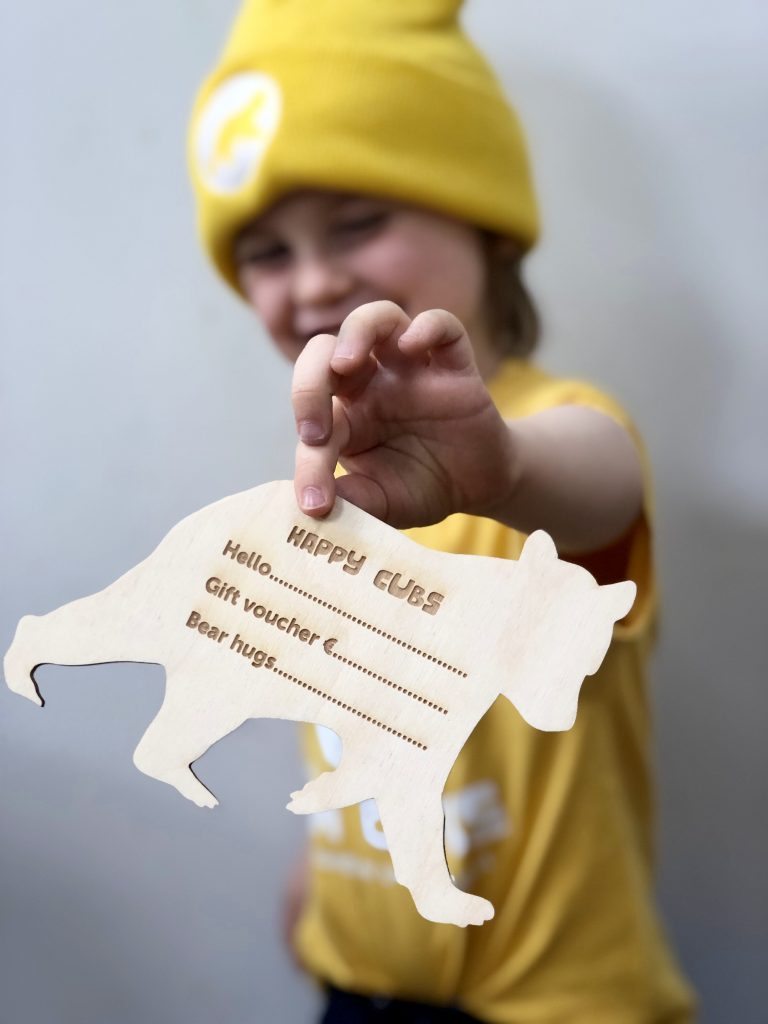 Musical Instruments
Develop your baby or toddlers motor skills with our range of musical instrument gift sets. Pair a musical instrument gift set with our Online Music Cubs classes to give an educational gift with a brilliant experience.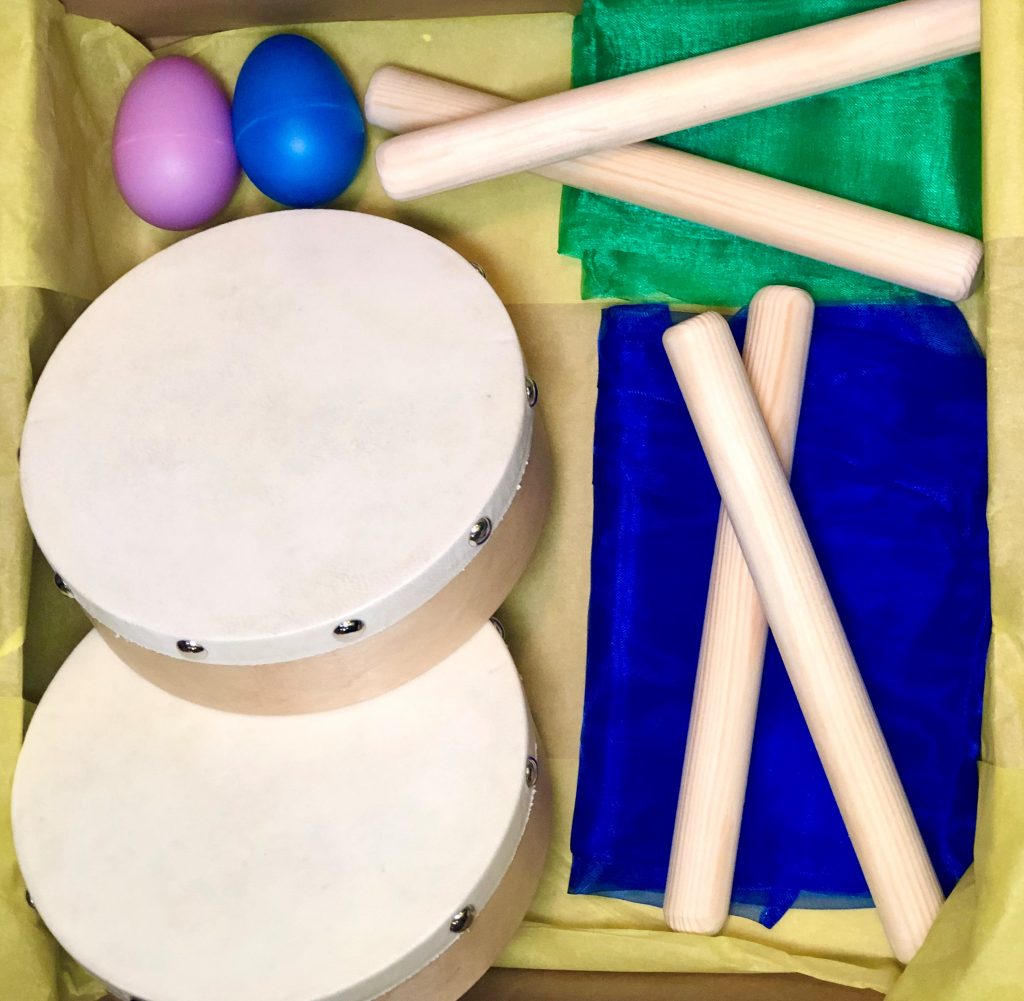 Beanie Hats
Keep your kids head cosy and warm with our Happy Beanie Hat. Made from 100% acrylic material, it has a lovely soft feel. We love the yellow colour because it makes us smile and our kids love that it has a bear on the front. Check out our musical instrument gift set bundles which include our Happy Beanie Hat to make the best savings here.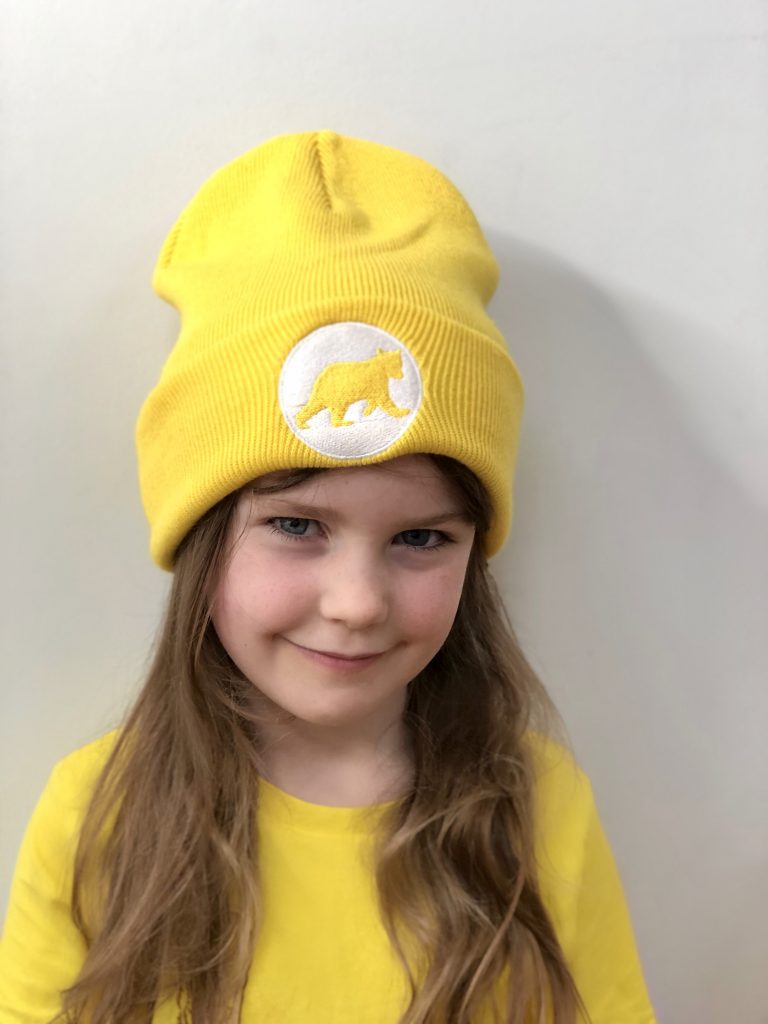 Shop our full range of Christmas gifts for kids aged 0 to 6 years on our website shop here.
Reopening| Our Covid-19 Prevention Measures
Hello mama & papa bears
We're very excited to welcome your babies and toddlers back for more swimming and music fun. We want your child to have the most positive and fun experience. With Covid-19, your safety and wellbeing is our number one priority. Here are our Covid-19 prevention measures.
Cleaning and disinfection measures
Bright and friendly facemasks are worn by all meeter greeters.
Hand sanitisers/washing areas will be readily available.
All areas/touch points of venues are cleaned regularly.
Teaching equipment to be regularly disinfected in between classes.
Buggies are not allowed inside venues to maintain floor hygiene.
Dispose of any tissues, nappies or other rubbish items in the bins provided.
Any items left behind will be disposed of by our team.
Personal hygiene measures
Wash/sanitize your hands upon arrival and when leaving your class.
Cover coughs and sneezes with the inside of your elbow or a tissue. Throw used tissues into the bin immediately and wash hands.
No food or eating at classes or changing rooms.
Shower before and after class at home, and not at the pool.
Don't use a venue water dispenser to refill your personal water bottle.
Antibacterial wipes will be available in changing areas for you to wipe down your own changing area, if desired.
Social distancing measures
Members should arrive no earlier than 10 mins before their class.
Queue outside the pool/venue entrance at the 2m signs. Meeter greeters will guide you into the venue one at a time.
Follow the one way system throughout the venue.
Social distancing of 2m per person will be encouraged.
Only one parent/carer per child allowed in class.
No spectators allowed in class to reduce the group numbers.
Bring one bag with you with changing items.
Wear swimwear under clothes to the pool, where possible.
Swim Cubs teachers will deliver lessons from the pool deck.
Feed your baby milk after you leave the venue after your class.
Make-up classes must pause to reduce class numbers.
Important Covid-19 prevention
Do not come to class if you feel unwell or have any symptoms of Covid-19, recently travelled abroad or been in recent close contact with someone who tested positive for Covid-19.
Covid-19 Symptom Checker
Covid-19 symptoms may include:
Fever
Dry cough
Tiredness
Difficulty breathing or shortness of breath
Aches and pains
Sore throat
Loss of taste and smell
Swimwear
You can buy swimwear from our online shop . We can't accept payment by cash at venues to avoid person to person contact.
Collect swimwear at the front desk on arrival at the pool. Your meeter greeter will explain how to do this safely at the time.
If you forget to bring your bear cub's swim nappy to class, we can give you a new nappy at the pool, and send you a payment link by email. We regret that we cannot lend nappies for classes or take nappy returns.
Covid-19 Compliance Officer
Happy Cubs designated Covid-19 Compliance Officer is Jane Walker (owner and operations manager). Please contact us if you have any questions in relation to our Covid-19 Prevention Measures.
We took guidance from the Irish Government, Health Protection Surveillance Centre (HPSC), World Health Organisation (WHO), The Health Service Executive (HSE), Swim Ireland (SI) and the Swimming Teachers Association (STA).
Top tips | Help your child stay engaged for online classes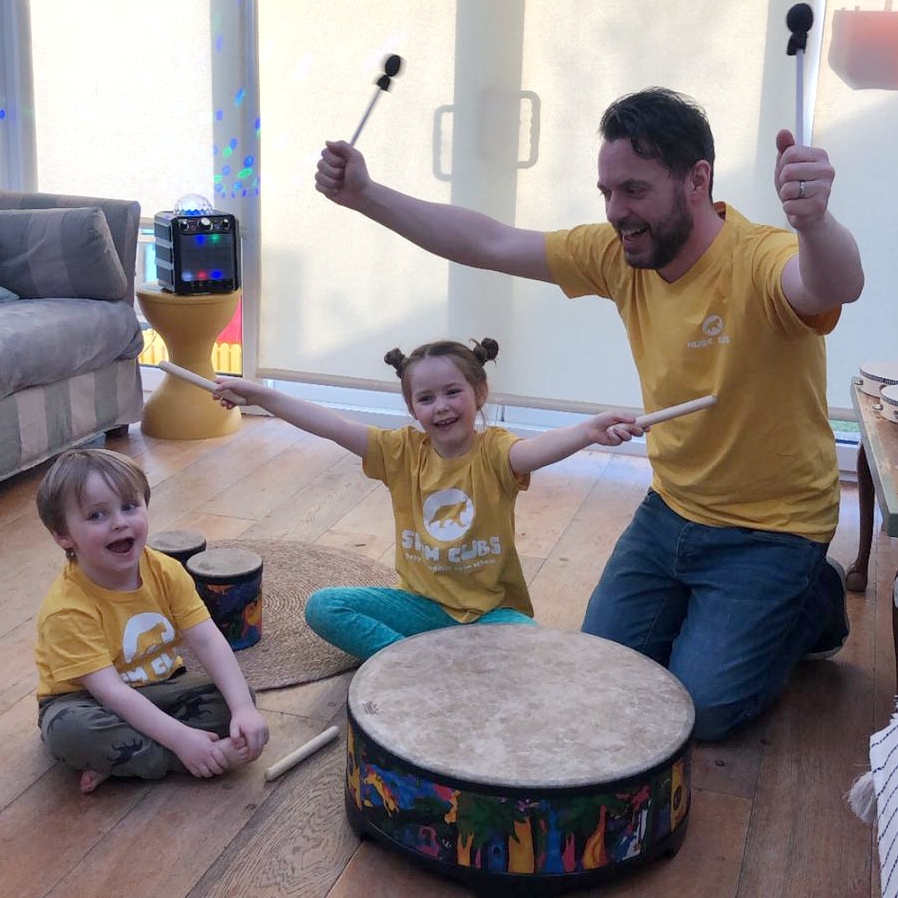 Learning from home can be as fun as it is educational. There are so many online resources at your fingertips to help you keep your child entertained at home – from virtual story time, water play, arts & crafts and music classes. Most educational classes for young children are 30 mins long. It can be a challenge for parents to keep their baby, toddler or preschooler engaged throughout their online classes. Here are our top tips for parents navigating online learning with their children.
1. Good Use of Technology
Set up your class in an area that has good internet connection. This is especially important if your child's class is Live streamed. We recommend using a device with a bigger screen – a computer or tablet is better than a mobile phone. If possible, watch the class through your tv. It's easier for younger children to focus on a bigger screen. Check your sound works ok so you can hear your teacher well.
2. Limit Distractions
Where possible, remove any distractions from your child's learning environment ahead of the class. Create a quiet and comfortable space for them to learn. It can be helpful to remove any clutter and reduce other noises. Taking these steps will help your child to focus on the task at hand – staying engaged, learning and having lots of fun.
3. Minimise Expectations
As parents with young children will know, they don't like to stay in the same place for too long. Allow your child to wander and move about during the class. Most toddlers and big kids are able to better focus on tasks when standing. Consider placing your device on a secure raised surface so that your child can stand to watch the class. They may not be watching the screen at all times, but they are listening and taking it in. Don't worry if your child loses focus after the first 10 mins. At Music Cubs, we send you a link to the recorded class so you can watch it again and again. This gives you the opportunity to break up the class throughout the week in smaller time segments, rather than trying to tackle the whole lesson in one sitting.
4. Use Positive Reinforcement and Praise
Positive reinforcement is a powerful tool to motivate your child to engage with their online learning. Each time your child follows an instruction or engages in a class activity, give immediate positive feedback. Praise will help build your child's self confidence and encourage them to repeat the activities during the class, and week after week.
5. Engage in the Class with your Child
For young children, interaction and play is valuable for learning. Babies, toddlers and big kids love to mimic what their parents do. In our Music Cubs parent & child classes, we encourage parents to sing, dance, play and interact with their child throughout the class. The best outcome is that you and your child have lots of fun learning together.
Online learning is a new territory for both teachers and parents. At Music Cubs, we are constantly working to make our online class experience better for our mama bears, papa bears and bear cubs. Check out this video of our online music classes here.
A guide to making musical instruments for kids at home
Babies, toddlers and big kids love to make music. Everyone is home at the moment and you might not have access to many instruments. Fear not, there are loads of household items you can quickly and easily make into instruments for children.
In our short video below, Brian from Music Cubs will show you how to make musical instruments out of household items.
1. Egg Shaker
These are used to keep the rhythm of a song during our Music Cubs classes. To make your own at home follow these steps:
Grab any plastic cup with a lid. Sippy cups are great for the younger bear cubs as they can hold the handles to shake the cup
Pour uncooked rice or pasta about a quarter way up the cup
Put the lid on securely (you don't want rice all over your floor)
2. Musical Sticks
These are used to teach children to keep the beat to a song.
A great at home replacement for these are wooden spoons or spatulas
Your bear cub can bang these together for a great sound (that won't send you running for the door)
3. Bongos
These drums are loads of fun for bear cubs to bang during their Music Cubs class.
For a home alternative, grab a plastic lunchbox
Fill with a handful of uncooked rice or pasta
Secure the lid tightly
Watch your little one happily bang away on their own drum
Here's Brian to explain everything you need for an online Music Cubs class.
Music Cubs run online music classes for babies, toddlers and big children. Perfect for ages from 6 months to 6 years. For more information check out www.happycubs.ie/musiccubs
Introducing your baby to the water at home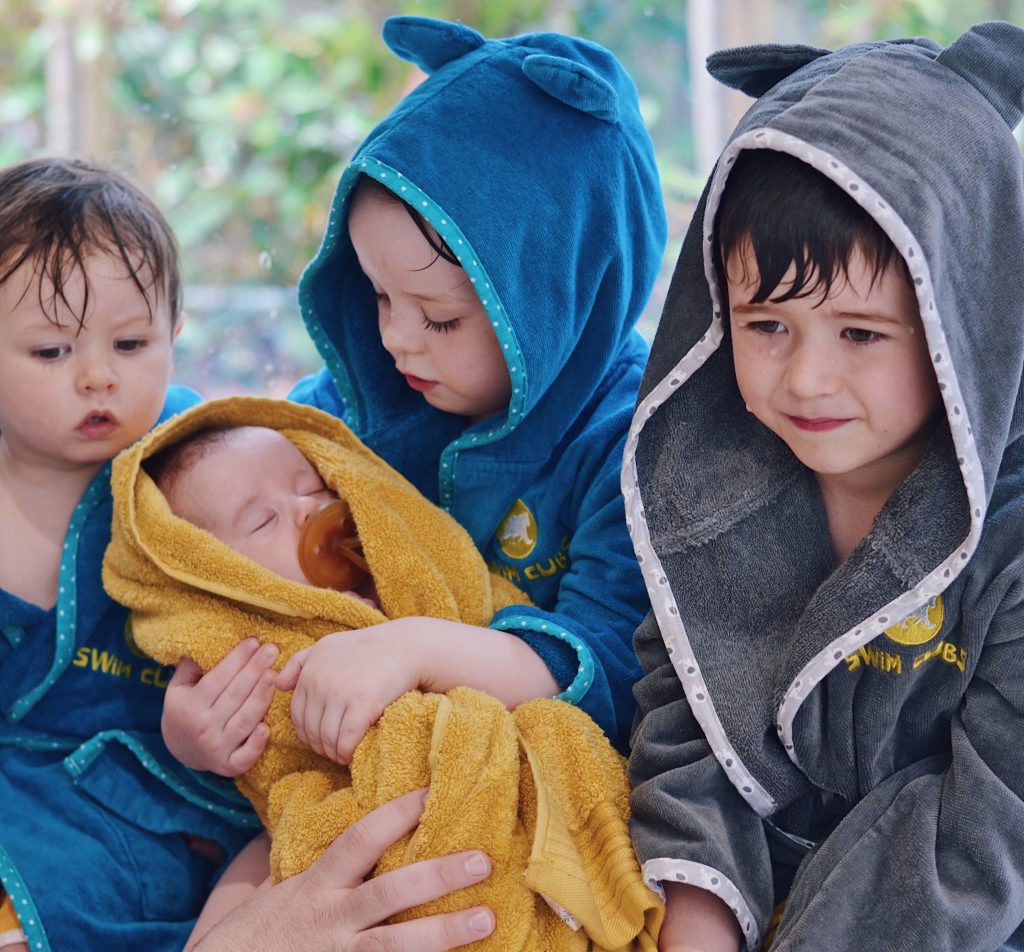 Start your baby's swimming journey at home, in the bath. Getting comfortable in the water at home, will help your child to grow a lifetime love of the water. Check out our top tips below for bathing your baby.
Baby swimming is one of the most valuable activities. Not only does it encourage parent-baby bonding, but it's also teaching your child a skill that could save their life one day.
The benefits of baby swimming will last your baby a lifetime
As well as teaching your baby a lifesaving skill, swimming has so many other benefits:
Physical:
Strengthens your baby's heart & lungs
Helps to build muscles and joints
Improves balance & coordination
Emotional:
Beautiful bonding experience
Skin to skin contact releases the feel-good hormone oxytocin
Builds trust between you and your baby
Grows their confidence
Lastly, but most importantly, is the joy that swimming brings. Giving your child the confidence in the water to play and have fun with friends in the water as they grow up, is a gift.
Introducing your baby to water at home will help them transition to the pool easily
With all pools closed due to the current pandemic, you might be worried that your bear cub with miss out. Don't worry, you can start your baby's swimming journey at home, in the bath. It's a familiar place where you and your baby can relax and enjoy the sensation of the water.
Both big baths and small baby baths work perfectly. It's all about making your little one feel safe and secure. Try to stay as relaxed as possible. Take your time and don't rush.
Here are our top tips for an enjoyable bath for your baby:
Lower the lights if possible so your bear cub isn't looking into a bright light.
If it's comfortable for you, get into the bath with your baby. It's a wonderful time for skin to skin and bonding.
Gently introduce them to the bath, in your safe hands, supporting their head.
Lay them on their back, looking at your face. Smile and be encouraging.
You can introduce gentle movement, swaying from side to side.
Talk to your baby and explain to them what you're doing. "Now I'm going to wash your feet"
After the bath, give your baby a big feed and some cuddles.
Having a positive bath experience is a lovely start for your baby's swimming journey. The water is a place they feel secure and happy. It's so important to never leave your child alone near water as drowning happens fast and in silence.
Swim Cubs hold swimming classes for babies & toddlers from ages 2 months to 4.5 years. Check out www.happycubs.ie/swimcubs for more information.
@happycubs.ie

ON INSTAGRAM